Product Description
#detail_decorate_root .magic-0{border-bottom-width:2px;border-bottom-style:solid;border-bottom-color:#53647a;background-color:#c5ccde;margin-left:0;margin-right:0;padding-left:8px;padding-right:8px;color:#53647a;font-family:Roboto;font-size:24px;padding-top:8px;padding-bottom:4px}#detail_decorate_root .magic-1{width:750px}#detail_decorate_root .magic-2{overflow:hidden;width:750px;height:320px;margin-top:0;margin-bottom:0;margin-left:0;margin-right:0}#detail_decorate_root .magic-3{margin-top:-67px;margin-left:0;width:750px;height:561.75px}#detail_decorate_root .magic-4{padding:0;font-size:16px;line-height:20px;font-weight:bold;color:#333;margin:0}#detail_decorate_root .magic-5{margin:0;padding:0}#detail_decorate_root .magic-6{vertical-align:top}#detail_decorate_root .magic-7{padding:0;margin:0;color:#333;font-size:14px;white-space:pre-wrap}#detail_decorate_root .magic-8{padding:0;font-size:16px;line-height:20px;font-weight:bold;margin:0}#detail_decorate_root .magic-9{vertical-align:top;display:block;padding-right:4px;box-sizing:border-box;padding-left:4px}#detail_decorate_root .magic-10{vertical-align:top;padding-bottom:4px;box-sizing:border-box;padding-top:4px}#detail_decorate_root .magic-11{padding:0;margin:0;white-space:pre-wrap;font-size:14px}#detail_decorate_root .magic-12{overflow:hidden;width:750px;height:650.624428876028px;margin-top:0;margin-bottom:0;margin-left:0;margin-right:0}#detail_decorate_root .magic-13{margin-top:0;margin-left:0;width:750px;height:650.624428876028px}#detail_decorate_root .magic-14{overflow:hidden;width:750px;height:487.699px;margin-top:0;margin-bottom:0;margin-left:0;margin-right:0}#detail_decorate_root .magic-15{margin-top:0;margin-left:0;width:750px;height:487.699px}#detail_decorate_root .magic-16{overflow:hidden;width:750px;height:320px;margin-top:0;margin-bottom:4px;margin-left:0;margin-right:0}#detail_decorate_root .magic-17{margin-top:-68px;margin-left:0;width:547.2px;height:439.2px}#detail_decorate_root .magic-18{overflow:hidden;width:373px;height:201.07816711590297px;margin-top:0;margin-bottom:0;margin-left:0;margin-right:0}#detail_decorate_root .magic-19{margin-top:0;margin-left:0;width:373px;height:268px}#detail_decorate_root .magic-20{overflow:hidden;width:373px;height:201.07816711590297px;margin-top:0;margin-bottom:0;margin-left:4px;margin-right:0}#detail_decorate_root .magic-21{margin-top:-65.35040431266847px;margin-left:0;width:373px;height:279px}#detail_decorate_root .magic-22{overflow:hidden;width:750px;height:1024px;margin-top:0;margin-bottom:0;margin-left:0;margin-right:0}#detail_decorate_root .magic-23{margin-top:0;margin-left:0;width:750px;height:1024px}#detail_decorate_root .magic-24{overflow:hidden;width:184.5px;height:203.30578512396693px;margin-top:0;margin-bottom:0;margin-left:0;margin-right:0}#detail_decorate_root .magic-25{margin-top:0;margin-left:0;width:184px;height:246px}#detail_decorate_root .magic-26{overflow:hidden;width:184.5px;height:203.30578512396693px;margin-top:0;margin-bottom:0;margin-left:4px;margin-right:0}#detail_decorate_root .magic-27{margin-top:0;margin-left:0;width:184px;height:253px}#detail_decorate_root .magic-28{margin-top:0;margin-left:0;width:184px;height:260px}#detail_decorate_root .magic-29{margin-top:0;margin-left:0;width:184px;height:262px}#detail_decorate_root .magic-30{width:446px}#detail_decorate_root .magic-31{overflow:hidden;width:446px;height:264.4743935309973px;margin-top:0;margin-bottom:0;margin-left:0;margin-right:0}#detail_decorate_root .magic-32{margin-top:-52.894878706199464px;margin-left:0;width:446px;height:370px}#detail_decorate_root .magic-33{width:300px;display:flex;flex-direction:column;margin-right:0;margin-left:4px}#detail_decorate_root .magic-34{padding:0;line-height:20px;font-weight:bold;color:#333;margin:0}#detail_decorate_root .magic-35{width:300px;display:flex;flex-direction:column;margin-right:4px;margin-left:0}#detail_decorate_root .magic-36{margin-top:-19.234501347708896px;margin-left:0;width:361px;height:342px}#detail_decorate_root .magic-37{margin-top:0;margin-left:0;width:446px;height:274px}#detail_decorate_root .magic-38{margin-top:0;margin-left:0;width:446px;height:284px}#detail_decorate_root .magic-39{vertical-align:top;display:inline-block;padding-right:4px;width:50%;box-sizing:border-box;margin-bottom:-4px;padding-left:0;margin-top:-4px}#detail_decorate_root .magic-40{vertical-align:top;box-sizing:border-box;padding-top:4px}#detail_decorate_root .magic-41{width:371px;height:320px;overflow:hidden}#detail_decorate_root .magic-42{position:relative;left:0;top:0;width:426.667px;height:320px}#detail_decorate_root .magic-43{vertical-align:top;display:inline-block;padding-right:4px;width:50%;box-sizing:border-box;margin-bottom:-4px;padding-left:0;margin-top:-4px;margin-left:-3px}#detail_decorate_root .magic-44{width:364px;border-collapse:collapse}#detail_decorate_root .magic-45{padding:5px 10px;overflow:hidden;width:345px;box-sizing:content-box}#detail_decorate_root .magic-46{display:none}#detail_decorate_root .magic-47{padding:5px 10px;overflow:hidden;width:164px;box-sizing:content-box}#detail_decorate_root .magic-48{padding:5px 10px;overflow:hidden;width:71px;box-sizing:content-box}#detail_decorate_root .magic-49{text-align:center}#detail_decorate_root .magic-50{padding:5px 10px;overflow:hidden;width:252px;box-sizing:content-box}#detail_decorate_root .magic-51{position:relative;left:-27px;top:0;width:397.8px;height:288px}#detail_decorate_root .magic-52{vertical-align:top;display:inline-block;padding-right:4px;width:33.33%;box-sizing:border-box;margin-bottom:-4px;padding-left:4px;margin-top:-4px}#detail_decorate_root .magic-53{width:245px;height:162.68px;overflow:hidden}#detail_decorate_root .magic-54{position:relative;left:0;top:0;width:245px;height:162.68px}#detail_decorate_root .magic-55{padding:0;margin:0;color:#333;font-size:16px;white-space:pre-wrap}#detail_decorate_root .magic-56{padding:0;margin:0;white-space:pre-wrap;font-size:16px}#detail_decorate_root .magic-57{width:244.656px;height:162.68px;overflow:hidden}#detail_decorate_root .magic-58{position:relative;left:0;top:0;width:244.656px;height:244.411px}#detail_decorate_root .magic-59{position:relative;left:0;top:0;width:244.656px;height:243.433px} Our Company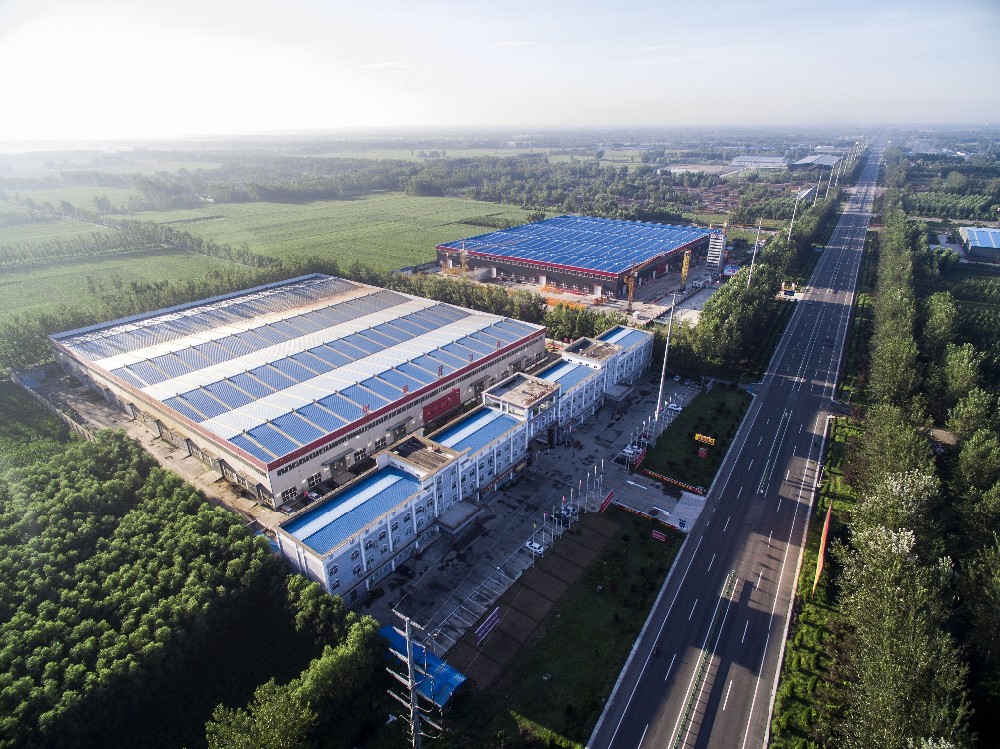 Jiuhong --- Jiuroad Holdings. Beijing Jiuhong Construction Machinery Co,Ltd, which is part of Jiuroad Holdings Group, is a professional and accurate technique corporation that specializes in researching and producing
suspended platform
, construction elevator, work platforms,car parking system, cradle, gondola,building hoist, material hoist, portal frame, suspended access equipment,which is one of the main enterprise for domestic building machine product export.In China, Jiuhong brand series product have spread all over the construction area,the product quality is first class, we could produce the all kinds of special construction machinery and non-standard equipment according to the requirements of customers. 
     The company covers an area of 6.1 million square meters,Building areas are 4.9 million square meters,the registered capital is 8 million RMB,and own the fixed assets of 80 million RMB. The employees more than 500 people(10 advanced engineer,25 engineer and technology worker are 37.)
       Our products have been used in every corner in China, and have been exported to more than 20 counties, such as Middle South Asia, East Asia, Europe, North America, South America, Latin, Africa, Middle East Asia etc. The volume of export has reached to 30% of total year sales volume, the brand of Jiuhong has become world famous.
      We insist in science and technology innovation, occupying markets with innovations, super quality and absolute faith. Our running principle is that quality comes first, customers come first, and reputation comes first. We face with friends and clients all over the world sincerely. To provide satisfied productions and services is our eternal pursuit and promise. Beijing Jiuhong hopes to cooperate with you sincerely. 
       Let us join hands with each other to advance and work for a prosperous future.
Product Description Product Application ZLP series suspended mainly used to decorating,maintaining and cleaning the facade of high-level buildings and exterior construction such as cement coating,veneering,painting,installing the glass curtain walls,painting as well as cleaning and Maintenance. Also can be applied to operating of big vessels and bridges,dams,etc.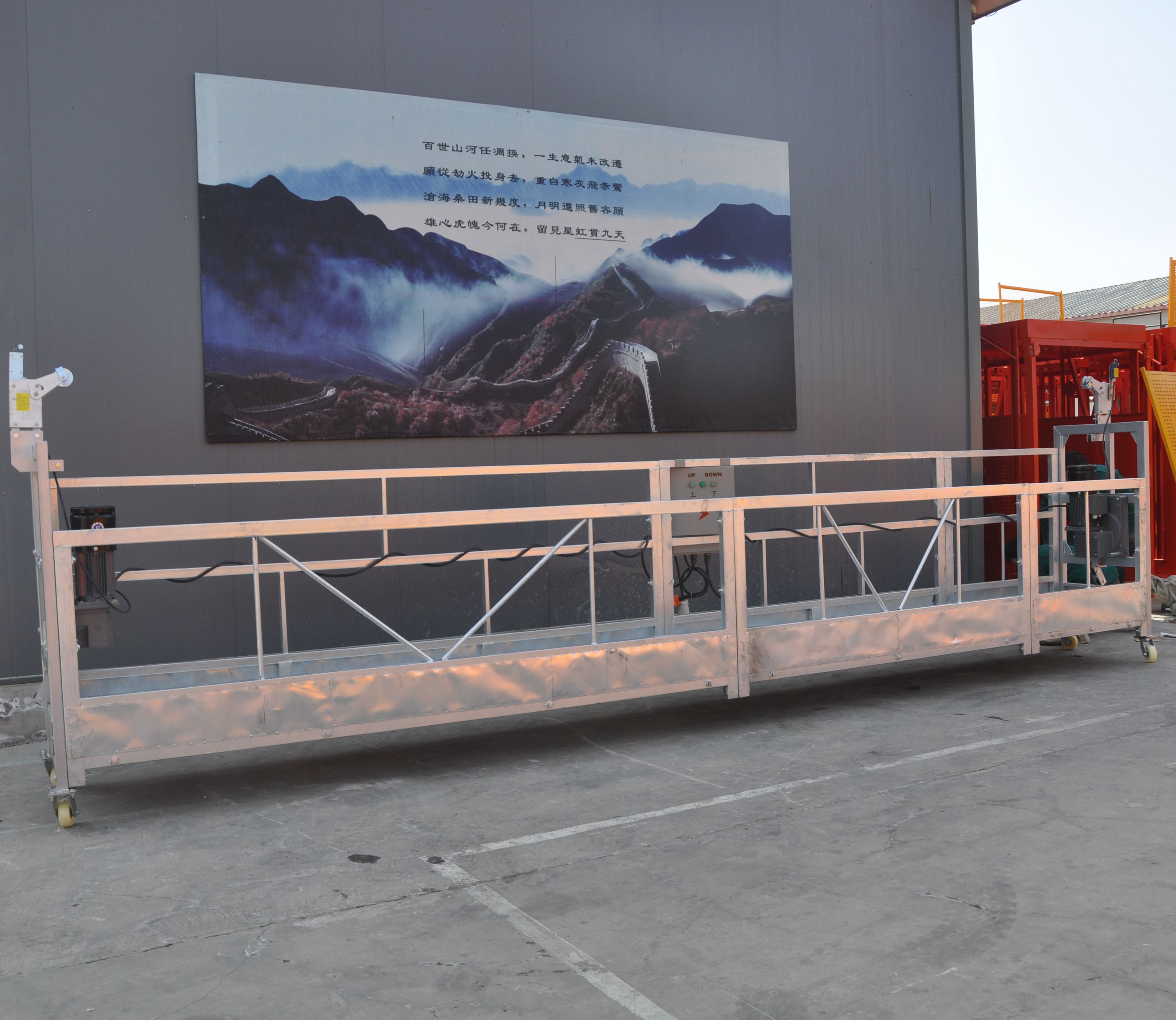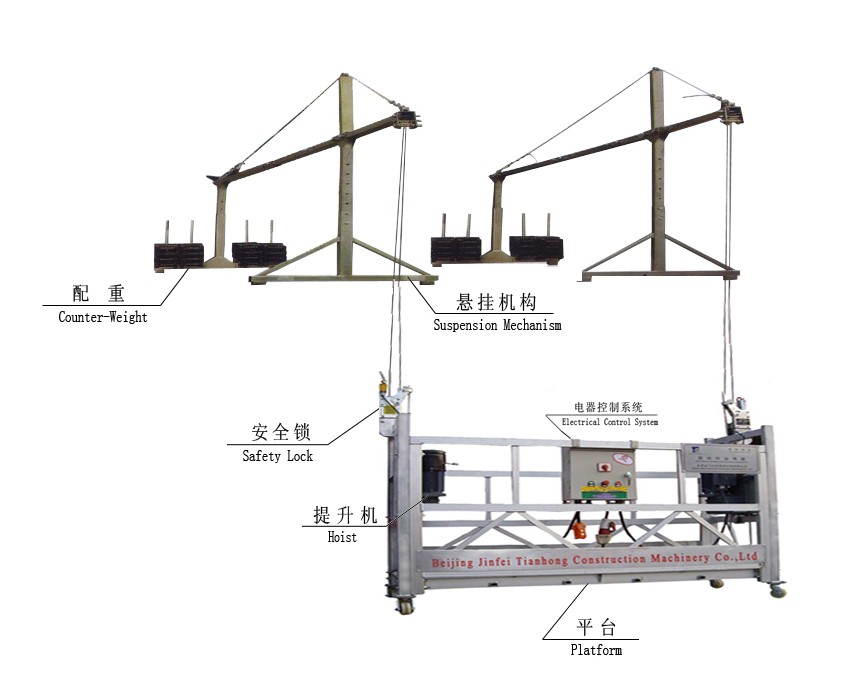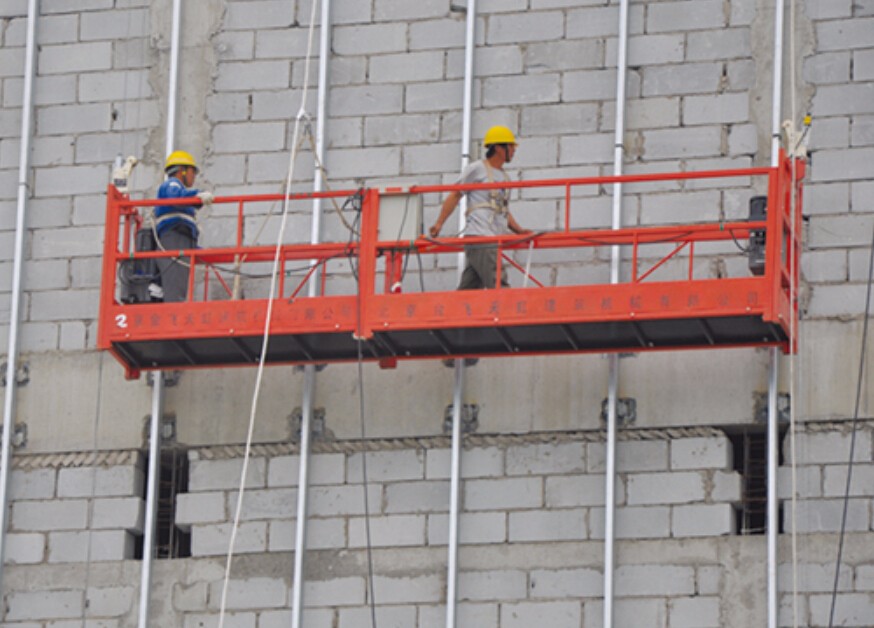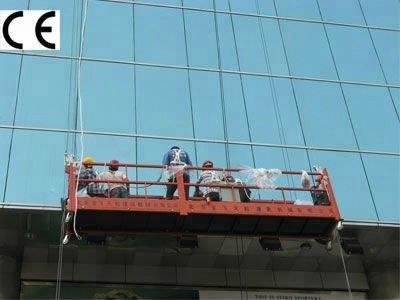 Main Features 1) Applying this product can release scaffold free,reduce the construction cost and the efficiency will be greatly increased.Mean while,the production is simple flexible,easy transfer,easy to operate,safe and reliable.
2) Without painting and galvanizing on surface.
3) Protecting of the surface oxygen membrane on the surface can be rust-proof,anti-corrosion .
4) Light weight,65% lighter than the same model of steel one.
5) Increase in the effective load and improve the ability of anti-capsize .
6) Transporting and installing are easier and labor saving.
7) With bright color,good outlook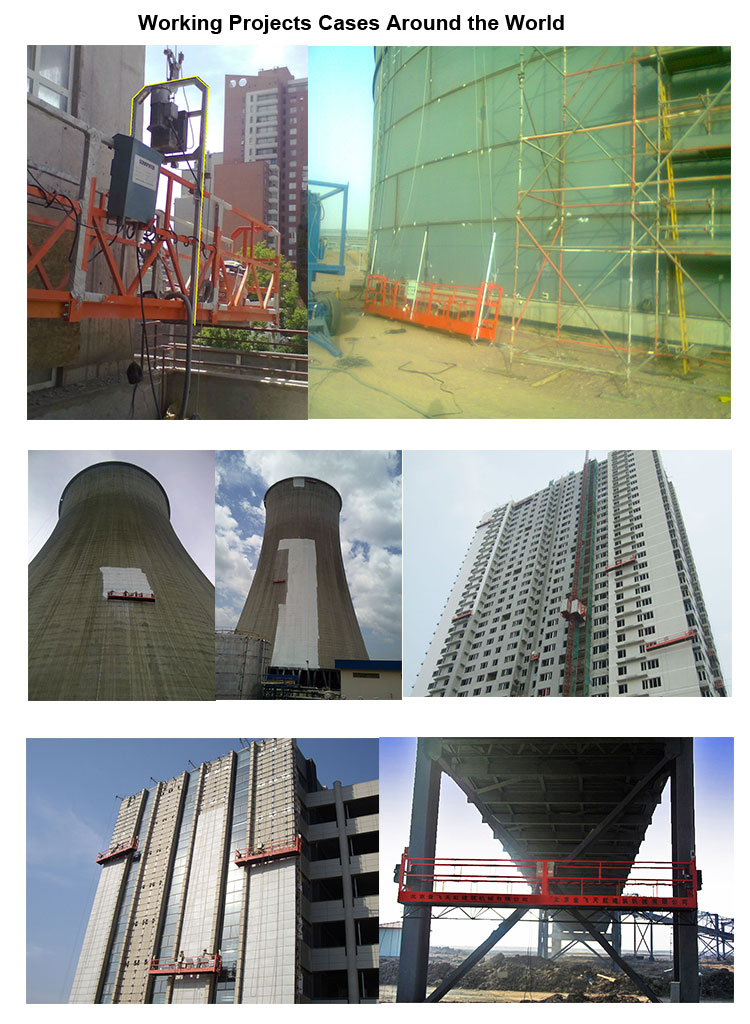 Certifications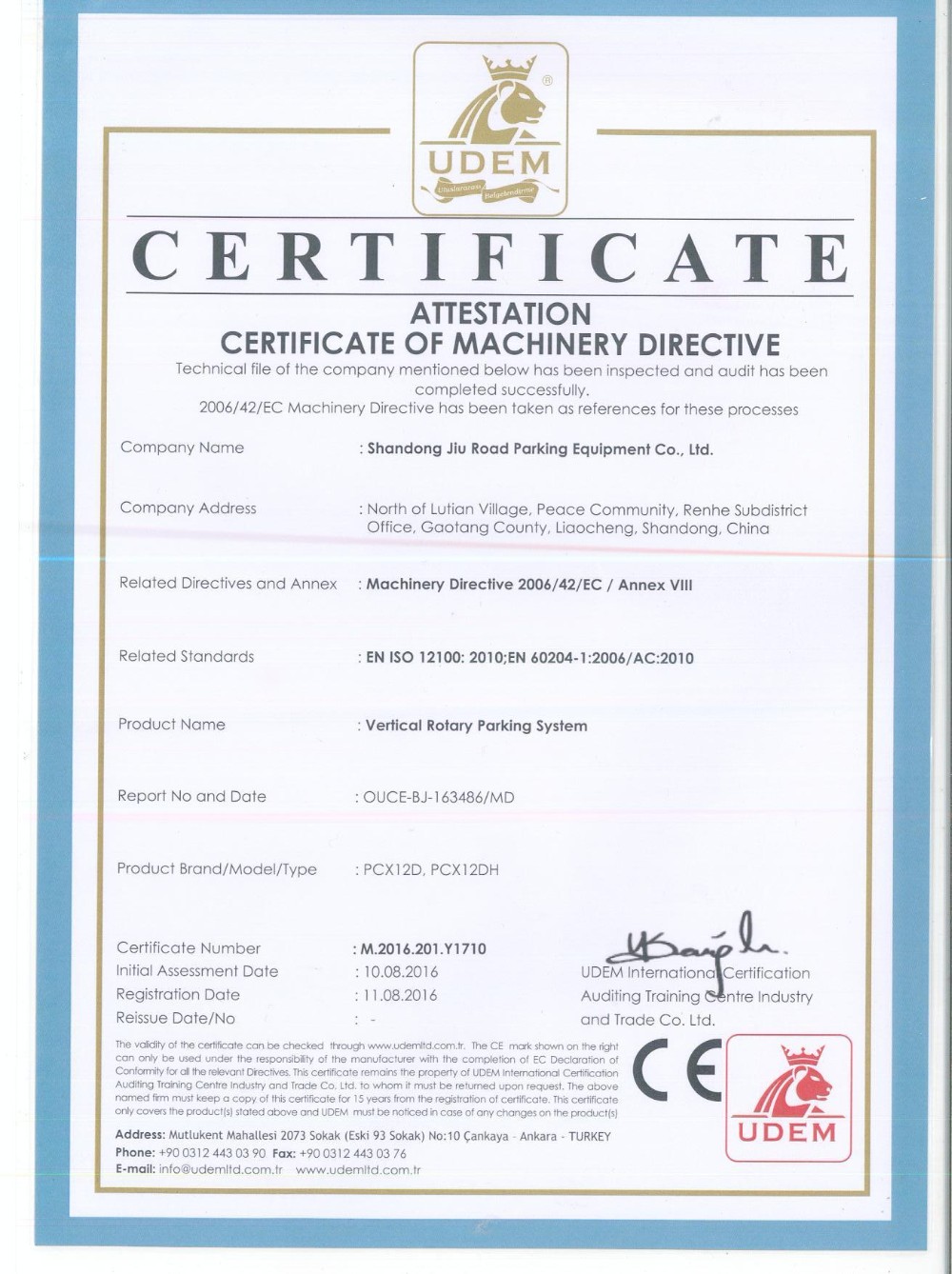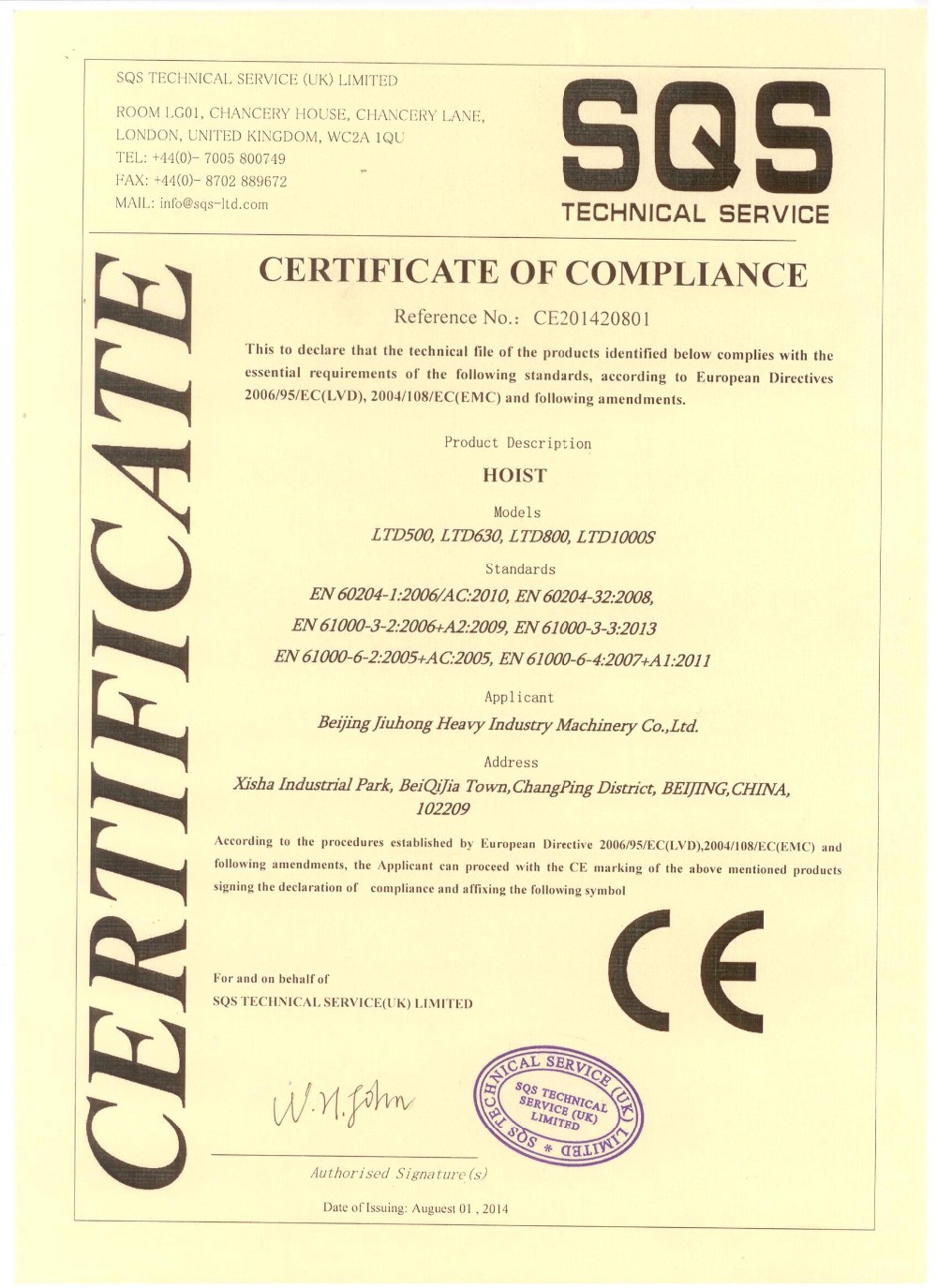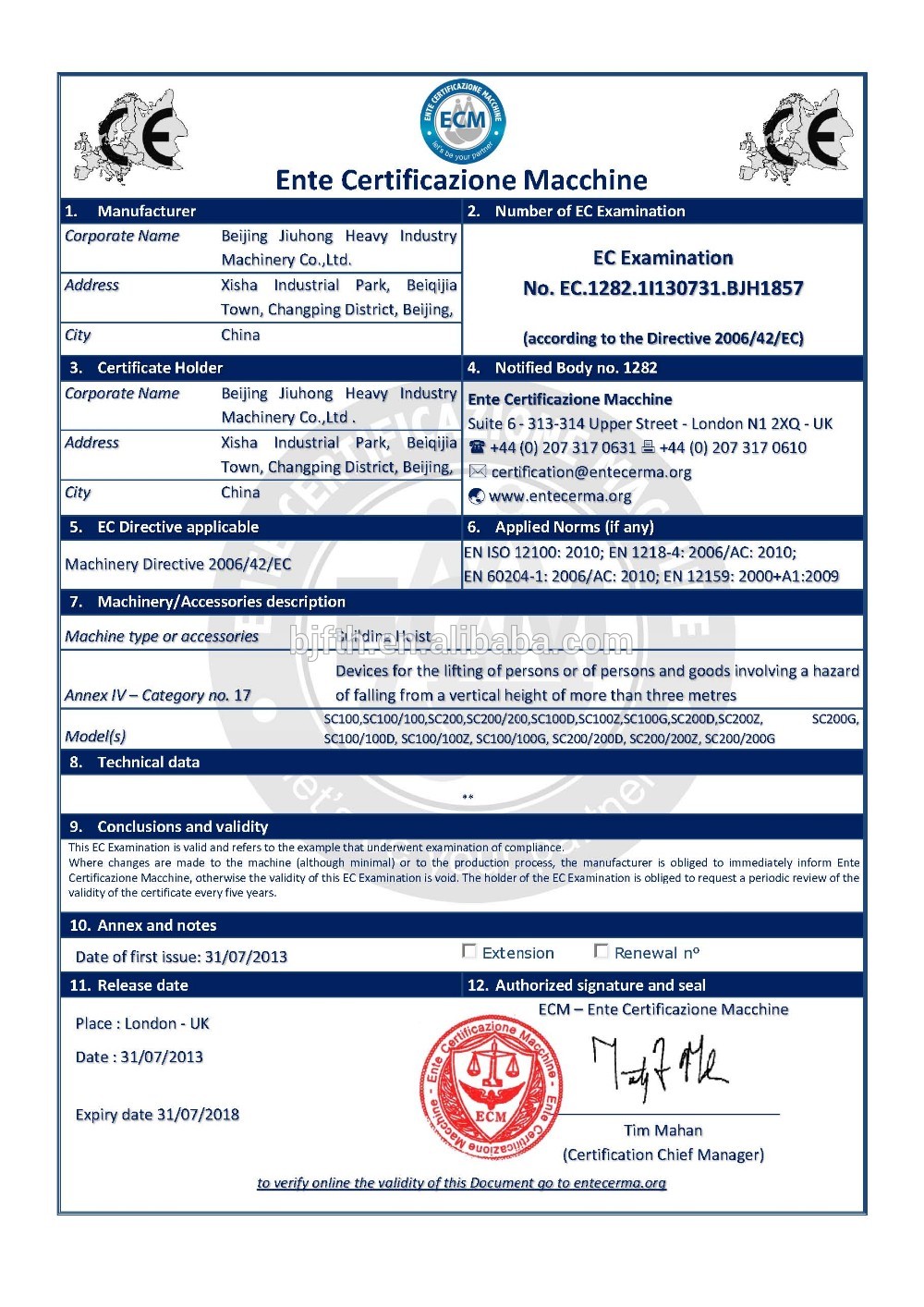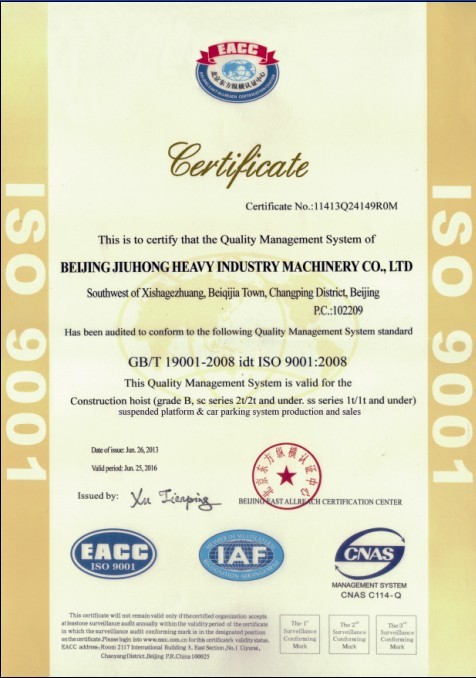 Detailed Images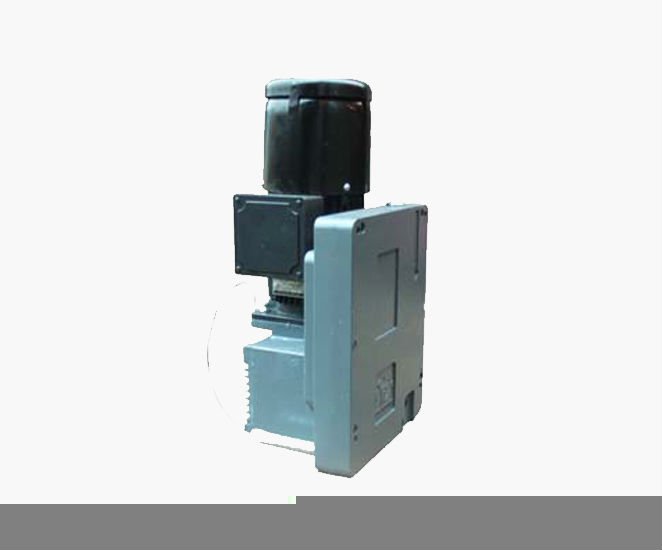 Machine Parts Name: Hoist Brand: Jiuhong Original: China Domestic famous engines, strong driving force, low  consumption.The voltage can be customized as your requirement.
Main Features Name: Safety Lock
Brand: Jiuhong 
Original: China
Domestic famous engines,The allowable load,> 800 kg.The Cable Locking Angle 3-8.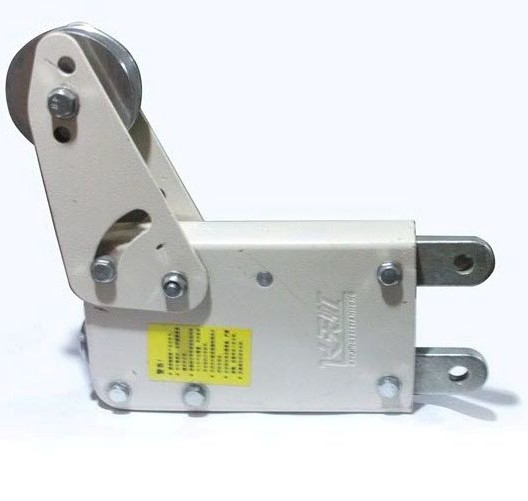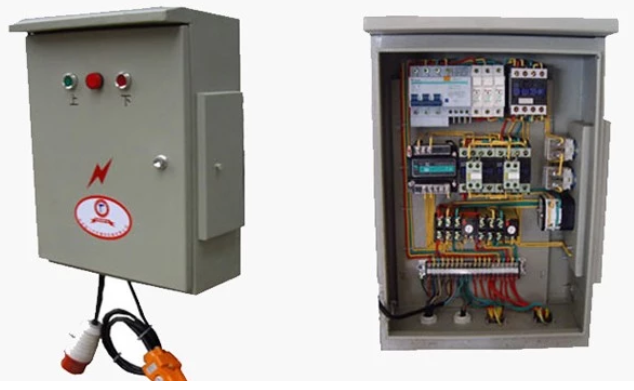 Machine Parts Name:Electrical control box
Original: China
Domestic famous engines, strong driving force, low consumption, equipped with the famous parts.
Main Features Name: Suspension mechanism
Brand: Jiuhong
Original: China 
The suspension mechanism is galvanized,and the thickness of steel tube is 4 mm.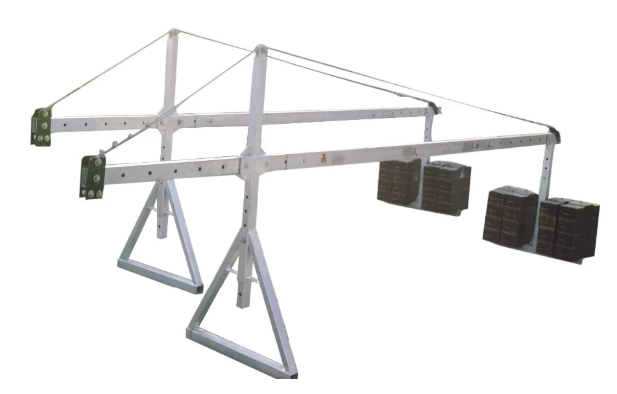 Packing & Delivery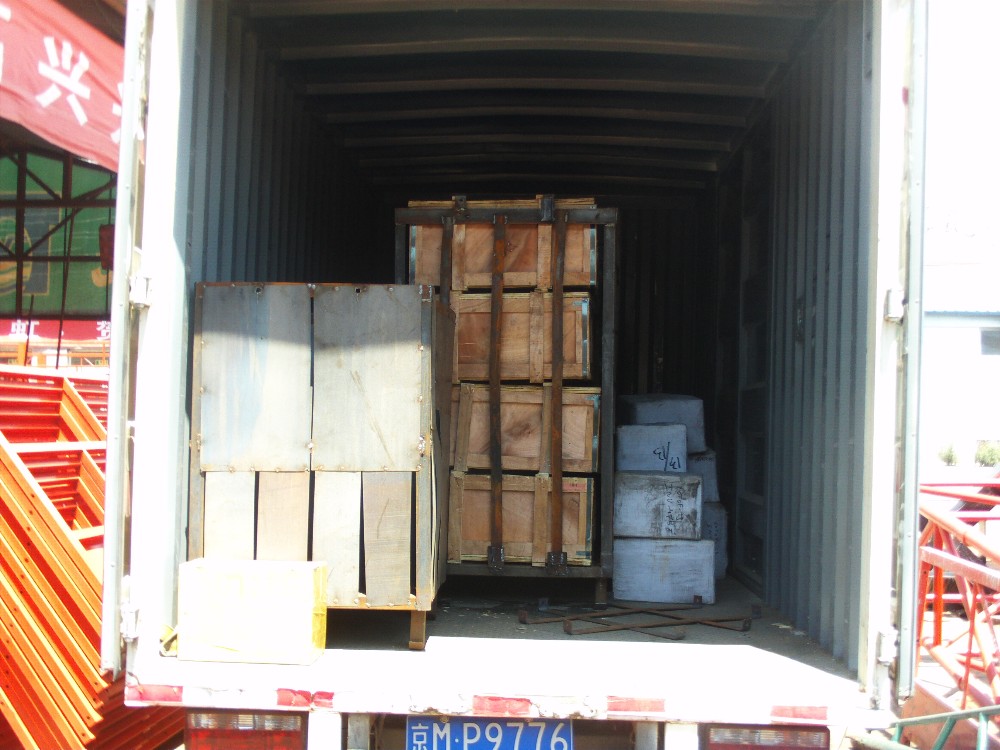 Packaging

20GP

14

7 SETS
Steel pallets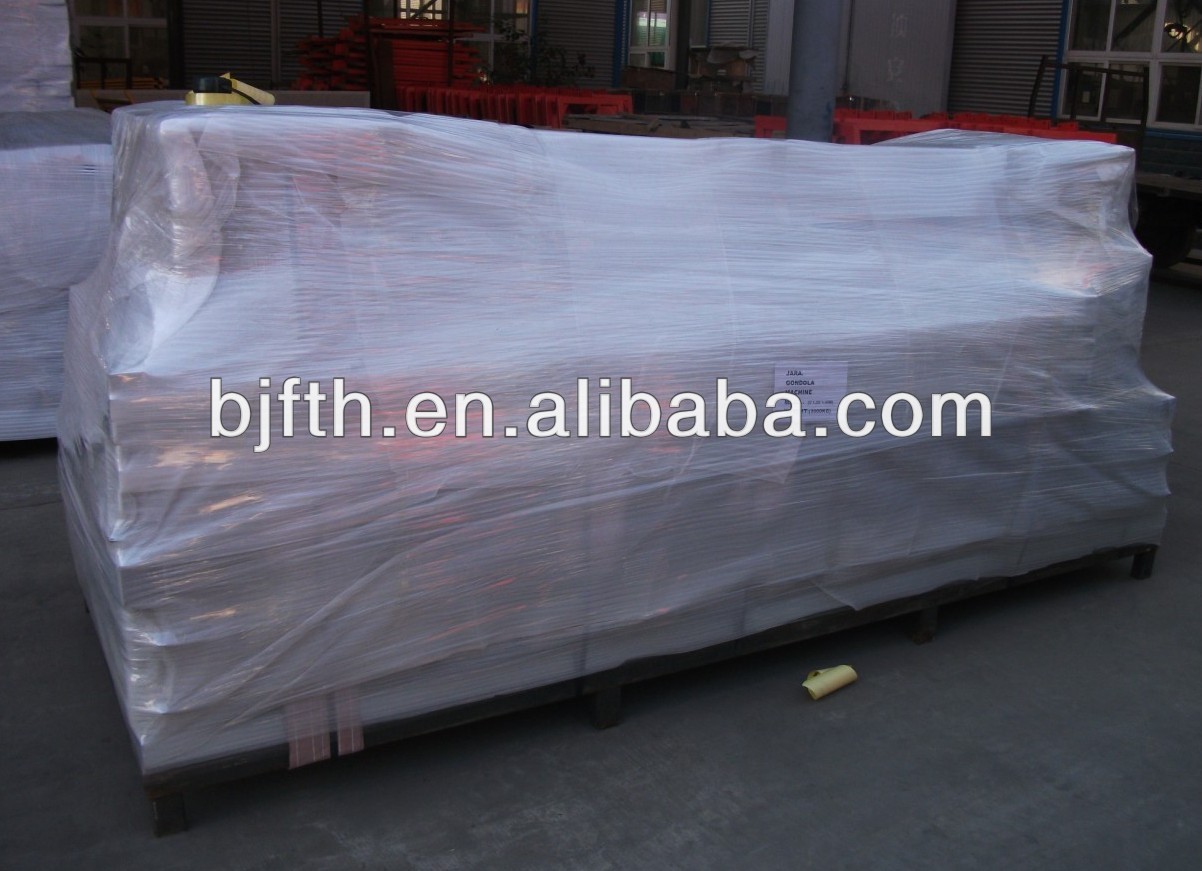 Packaging

3m * 1.2m * 1.1m

2 T

1. Steel shelf

2. Plastic film

3. Paper box

We can also pack as your request.
Related Products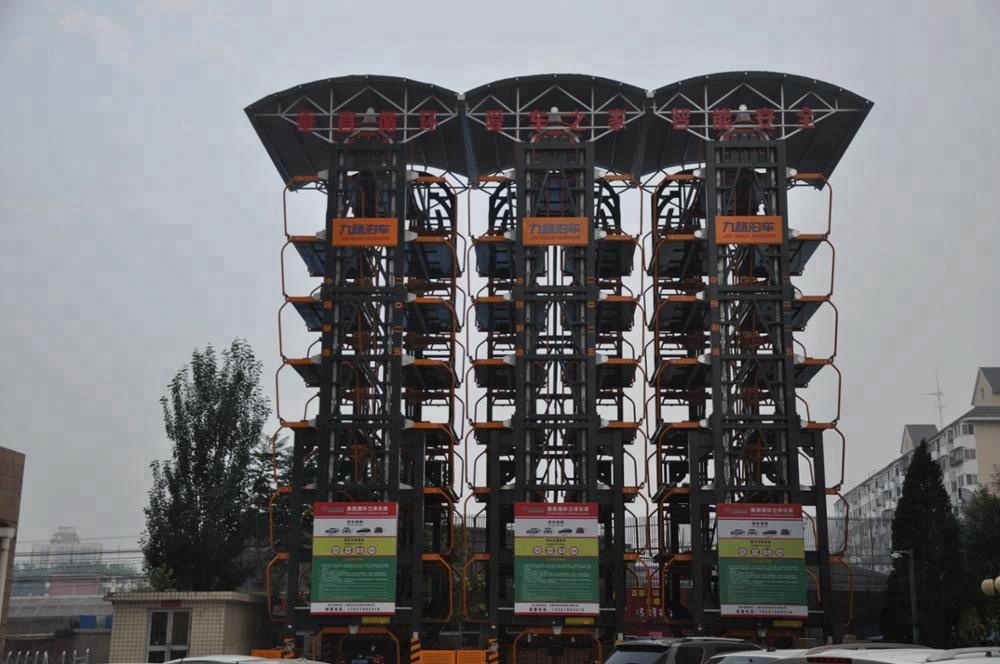 Vertical Rotary Parking System 91.8% Response Rate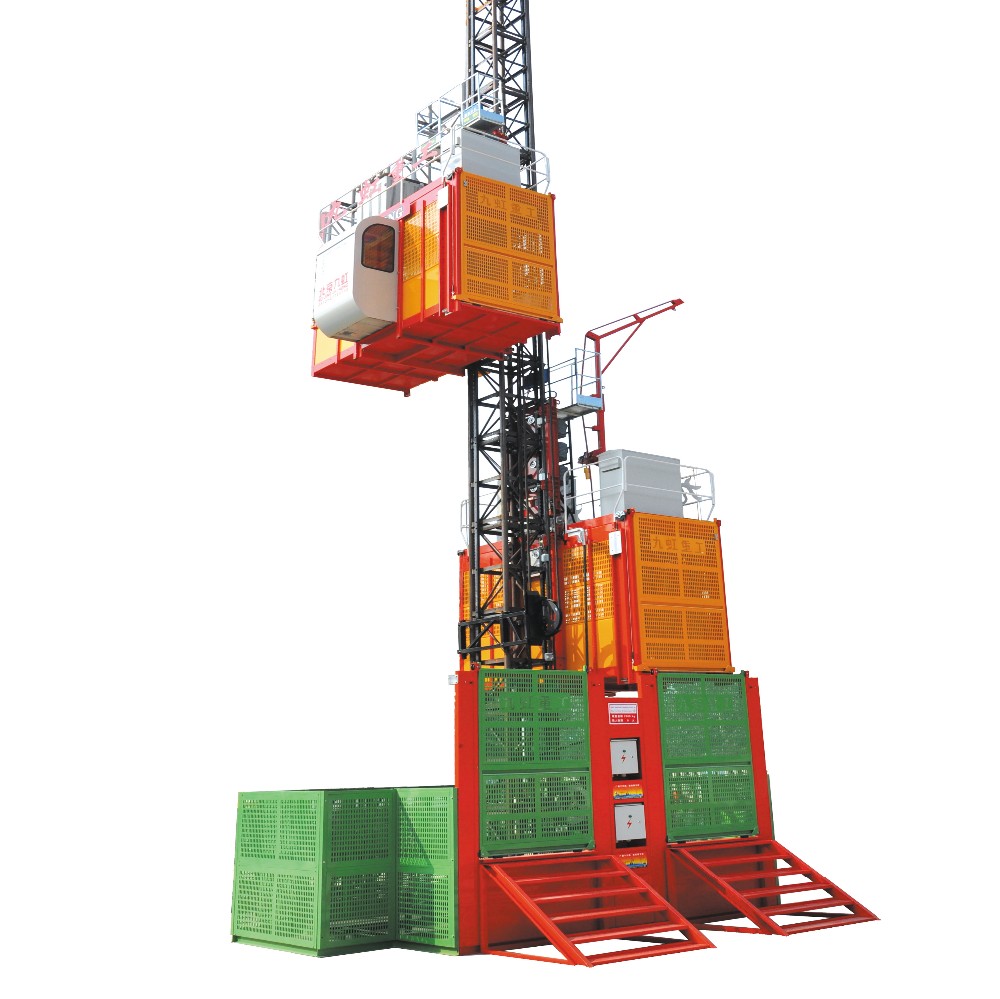 construction hoist
91.8% Response Rate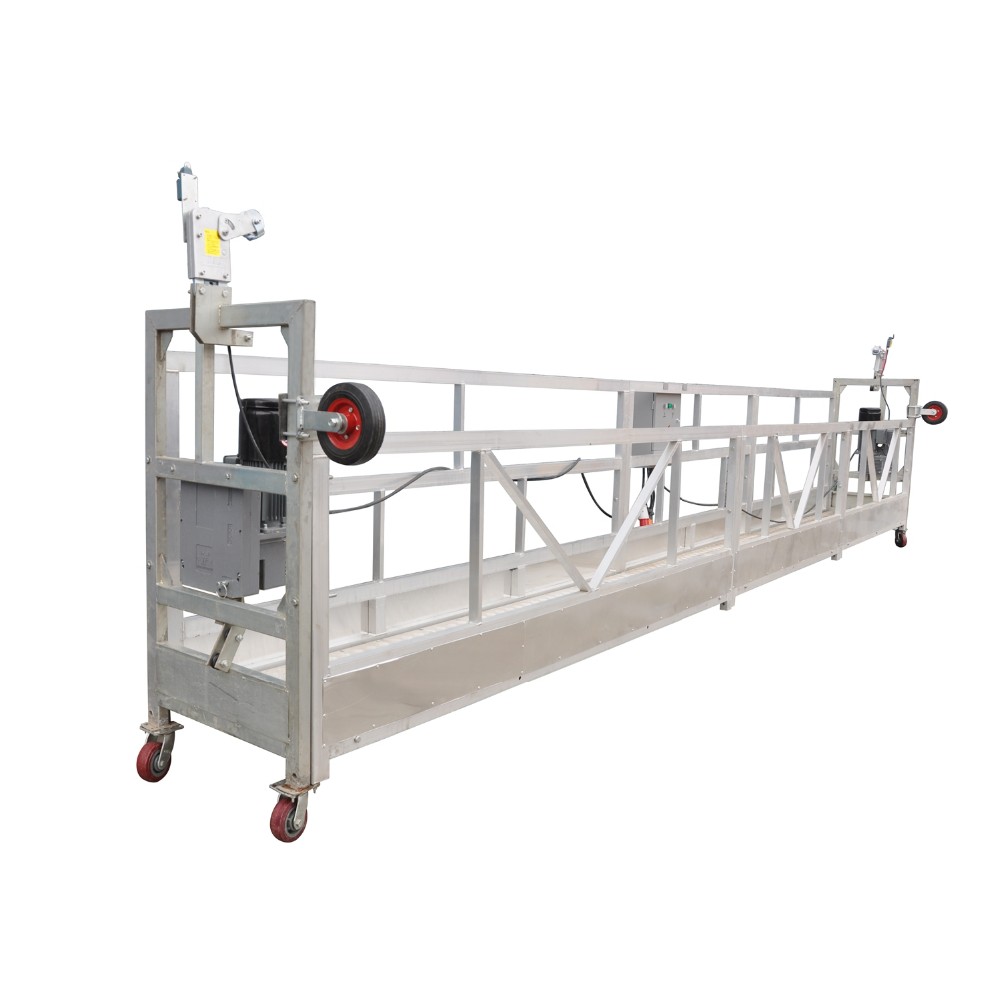 Products Name with link 91.8% Response Rate Contact us if you need more details on cleaning equipment. We are ready to answer your questions on packaging, logistics, certification or any other aspects about window cleaning equipment、Suspended gondola window cleaning equipment. If these products fail to match your need, please contact us and we would like to provide relevant information.
Product Categories : CONSTRUCTION MACHINERY > ZLP SUSPENDED PLATFORM